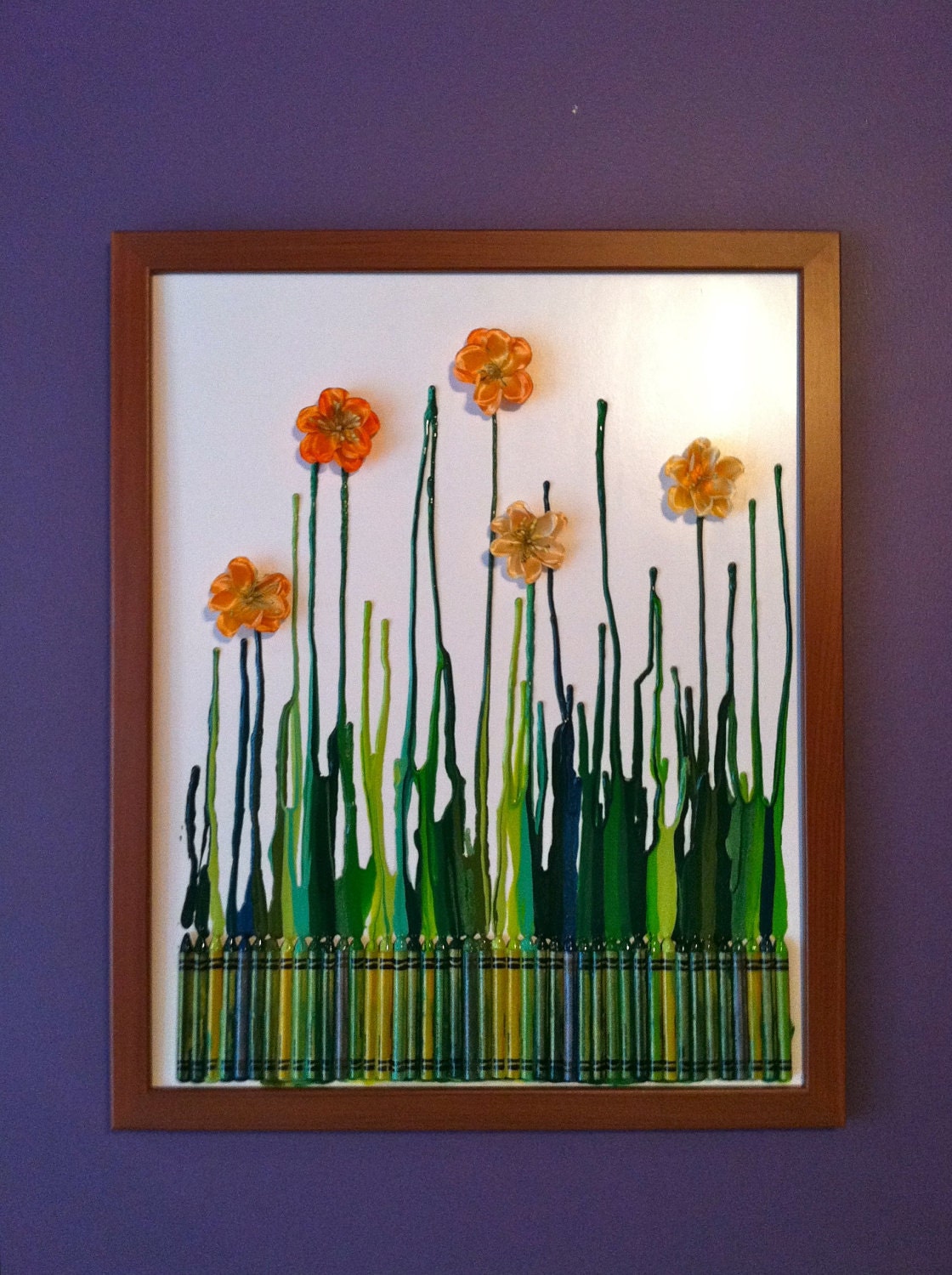 When I saw this on Pinterest, my first thought was "That. Is. Awesome." My second thought was "This would look fantastic in my office at work." (I work in pediatrics. Crayons, much less MELTED crayons is completely Peds.) After clicking on the link, which led me to an ETSY page, I realized JKCreate was charging anywhere from $40-$75 for his/her artwork. What!? I can see spending money for artwork, but not when I'm crafty AND it looks like a blast to recreate the artwork! Okay. I can do this. And hopefully, for MUCH cheaper than $40.
Materials:
One Canvas.
For this project I found a 10"X20" which was 7.99 at Hobby Lobby, 30% off! One Canvas = 5.59!
Crayons.
I went to Target and bought 2 boxes of 64 count crayolas so that I could get several shades of green. I think it was around $4 a box. I could have found this cheaper, but I was in the mood to craft... not shop :)
First, I pulled out all the greens and dark yellows. It didn't look like there was quite enough, so I also pulled out a few browns. Hey, this is Texas, y'all. What's nature without a bit of dead grass? I lined it all up on the canvas until I was satisfied and got to work gluing. I used Aleene's Clear Gel Tacky Glue since I knew it dried clear. That, and because it's my Craft Room Staple that you can get from Walmart for a couple bucks. One strip of glue, One crayon, stick and repeat. 26 crayons, 10 minutes tops.
Aaaaand let it sit for about 30 minutes. You know, this is the WORST time to decide this, but I'm not sure that I like the crayola labels facing out on every crayon. Oh well. That Aleene's is SERIOUS glue and you DON'T want to mess that up. What's done is done... So let's move on.
Armed with an embossing gun... (OR you can try a hairdryer)
Oh my goodness, it's working! I mean, of course it's working! The crayon wrapper turns a little darker as the wax melts, but don't let that freak you out... and don't let it distract you!
And there you go. I kept the canvas tilted at about a 15 degree angle and twisted a little bit as it dripped to get some wavy lines. Be VERY careful as you use the embossing gun or hairdryer. The liquid wax has a tendency to seriously fly all over the place. You can tell that in the finished, finished pictures below.
Finally, the flowers. I went to Hobby Lobby for the flowers, but they closed at 3:30 because of Labor Day. Next stop: JoAnn's. Their flower selection was definitely not as good! I was hoping for some that were colorful, silk-like, with a jewel in the middle. JoAnn's had NOTHING of the sort, but I did find these Daisy heads for around $4. Peel them off, stick them on, and admire your handiwork!
All right, folks, the damage for today's craft:
Canvas: ~ $6 (let's round up)
Crayons: ~$8
Flowers: ~$4
Aileen's Craft glue: ~$2
Whole Project: Around $2 for the one. This is another one of those crafts that get cheaper the more you make since you have left over crayons, flowers, and glue. Cheaper than JKCreate's version? I think so! Still appreciated by my Peds patients and coworkers? I think so! Happy camper? aaaaaaabsolutely.
Time: ~ 1 hour, start to finish
I suggest doing this kind of project while watching a movie or over lunch. Eat while letting the glue set, then the project feels like it only took 20 minutes.
Level of Ease: Kid + Adult
I think it's the PERFECT craft to do with kids. Adult operate the glue, kid help you pick out crayons and lay them down. Depending on the age, they might even enjoy making it melt. If you're worried, do it over cardboard or outside. It's truly mesmerizing to watch the crayons melt and meld. I can't WAIT to do it again!
YOUR TURN!
What would you change? What other colors would you use, and would you try to make scenes with it? I had the suggestion of putting a pale blue wash over the canvas with paint before melting, and I wish I would have thought about that sooner!
Happy Crafting my friends,
lindsey daniella